Tangua Haor Travel Guide [Houseboat, Food, Total Cost]
Spread over an area of ​​about 100 square kilometers in Sunamganj district, Tangua Haor is well-known to travel lovers. Its popularity has increased in 2022, thanks to the luxurious and attractive houseboats.
In this article, we will know all the details information about tangua.
Knock on Facebook messenger or email at hello@travellerhimel.com to get a PDF (updated 2023) with packages and detailed information on over 40 houseboats.
Tangua Haor
Tanguar Haor is located in Dharmapasha and Tahirpur upazilas of Sunamganj district at the foothills of Meghalaya hills.
The spectacular view of the mountains in Meghalaya makes the appearance of Haor more majestic. It is the second Ramsar site in Bangladesh after the Sundarbans. For those who don't know, Ramsar is a collective effort to protect the global ecosystem.
The total area of ​​Tanguar Haor is about seven thousand acres during the rainy season, which increases almost three times in size. More than 30 springs from Meghalaya, India merge into Tanguar Haor. This vast reservoir of biodiversity includes about 250 species of birds, 140 species of fish, more than 12 species of frogs, more than 150 species of reptiles, and more than 1000 species of invertebrates.
This haor is also home to migratory birds from far Siberia in winter.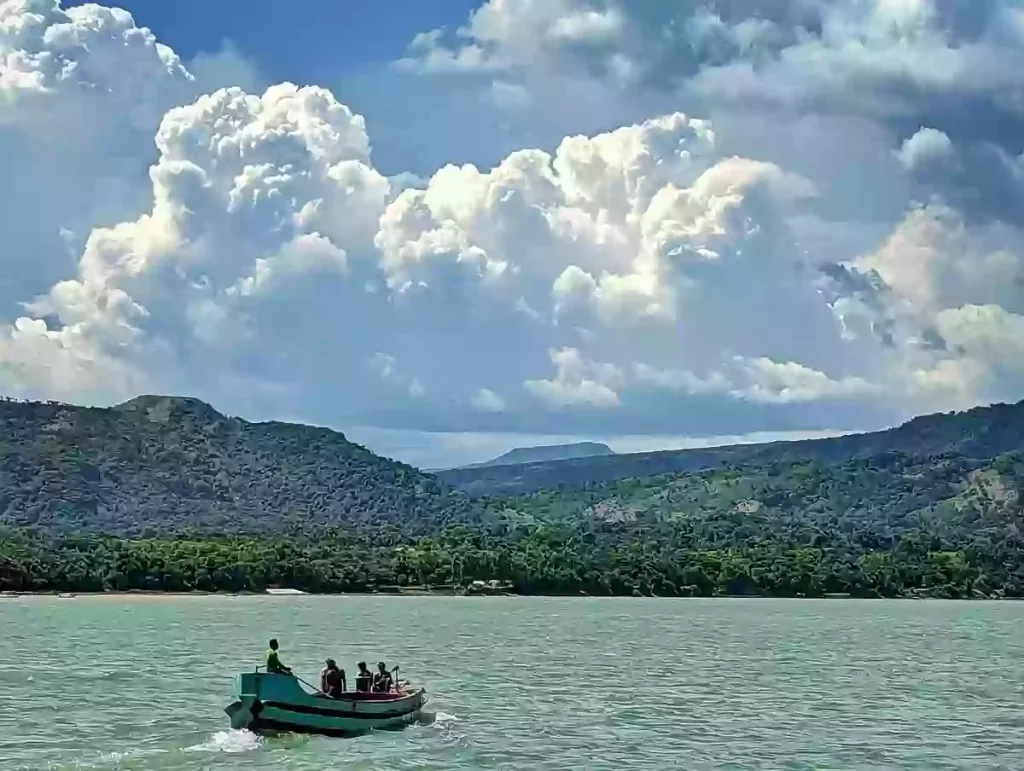 Best Time to Travel
July to October is considered to be the best time to visit Tanguar Hawar.
Besides, many migratory birds arrive in this haor during winter. For bird lovers, winter is the perfect time to visit.
The fact is, whenever you go Tangua will impress you with its variety.
Tourist Spots
Swamp Forest
Watch Tower
Niladri Lake (Shaheed Siraj Lake)
Lackmachara Waterfall
Barikka Tila
Shimul Bagan
Bamboo Garden
Jadukata Nodi
Beautiful sunrise and sunset of Haor
How to Go
There are two routes,
Sunamganj City/Taherpur -> Tanguar Haor
Netrakona->Mohanganj->Dharmapasa->Madhyanagar -> Tangua Haor
Dhaka to Sunamganj
Daily direct buses of Mamun, Shyamoli, Hanif, and Ena Paribahan leave for Sunamganj from Fakirapool, Sayedabad, and Mohakhali. Non-AC bus fare is Tk 750. It will take about six hours to reach Sunamganj.
Sunamganj to Tangua
From Sunamganj bus stand CNG, Laguna and Bikes to Tahirpur are available. It will take about an hour and a half.
You can hire a small or big troller according to the number of people in the group from Tahirpur Ghat.
Also, there are many houseboats with various facilities. However, houseboats must be booked in advance.
During the rainy season, you can reserve houseboats/trollers from SahebBari Ghat of Sunamganj city. In this way, you do not have to travel for one and a half hours by road to Tahirpur.
In winter you have to go to Solemanpur by bike/CNG/Laguna. You can hire a troller from there.
Netrokona to Tangua
By Train,
Hour express train from Dhaka to Mohanganj. From Mohanganj by Auto/Laguna/Bike to Dharmapasha or directly to Madhyanagar.
It will take about 3 hours to go to Tanguar by reserve troller from Madhyanagar.
By Bus,
Netrakona by bus from Dhaka. Then Madhyanagar Bazar by bike. Or by bus directly to Mohanganj/Madhyanagar Bazar. Tangua hour by troller from Madhyanagar.
Special Note: The fare mentioned above is subject to change at any time. So know the current fare during travel.
Troller Fare
Troller rent mainly depends on four factors.
Size and carrying capacity of the troller
Facilities
Season
Days of travel (Weekend/Weekdays/Long Holidays/Blackouts)
Things to consider while hiring a Troller
Toilet
Solar Panel/Generator
Light and fan
Life jacket
Samiana
For Day Trip

Small trollers: 2000 to 3000 Tk
Medium trollers: 3000 to 4500 Tk
Big trollers: 5000 to 7500 Tk

For 1 Night Stay

Small trollers: 4000 to 6000 Tk
Medium trollers: 6500 to 7500 Tk
Big trollers: 8000 to 12000 Tk
N.B: Houseboat rental is not calculated here. Detailed information about houseboats can be found below.
Accommodation
Usually, Tourist stay in troller or Houseboats.
Besides, you can stay in a wooden house called Haor Bilash at Tekerghat at a low cost. Moreover, there are several boarding and hotels to stay in Tahirpur Bazar, Sunamganj. But being on a trawler at night will be a different experience.
Food
If you are planning for a day trip, you can eat at Tahirpur/TekerGhat hotel with hoar fish, chicken, and duck.
If you stay in the troller at night, you have to do grocery shopping according to the number of days you will stay. If there are more people, you can hire a cook, or else, the sailor can cook.
Tips
Houseboats and many other standard trollers have good overnight accommodations and meals. Make sure you know what services you are getting while renting.
While hiring a troller from Madhyanagar, ensure the stove, plate, umbrella (useful if it is sunny), lifejacket, and kacha bazaar are properly taken.
You have to rent a bike or auto at Tekerghat to go to various spots (Lakmachara, Niladri Lake, Shimul Bagan, Barikka Tila, Jadukata Nodi). 2 people can sit on one bike (three including driver).
If you go to Netrakona by bus or train, you can spend a day more and visit Durgapur, Birishiri.
The fares mentioned here are subject to change at any time so check the fares before travelling.
Travel Plan
2 days 1 night (stay at Tanguare) via Tahirpur

Sunamganj bus stands first from any district of the country. Try to be there by 7 am.
After breakfast ride CNG/Bike/Laguna from Surma Bridge to Tahirpur. It will take 1-1.5 hours. Fix the troller from the ghat and do the necessary shopping for 2 days and 1 night. Fish need not be taken from here. You can buy fresh fish from the small markets of Haor.
Start the journey by 9/10 am and go to Watch Tower first.
After noon depart for Tekerghat. Spend afternoon and evening at Niladri Lake. If you haven't been swimming in watch tower, you can swim here. Take a life jacket wherever you swim.
From Tekerghat to Lackmachra. You can go around by bike, auto or on foot. Asking a local will show you. Stay at Tekerghat at night.
Wake up in the morning to enjoy the beauty of Barikka Tila and Jadukata river. Bike should be taken from Tekerghat. If you want, you can go by troller, but you should mention it at the time of hiring the troller.
You will visit the Shimul garden when it is time for Shimul flowers. Come to Tahirpur in the afternoon. Sunamganj city in CNG/Bike/Laguna as before. From there convenient transportation (bus/train) to your home.

From Sunamganj

Here everything will be as per the previous plan except for the 1-1.5 hour journey to Tahirpur. In Sunamganj city you can start your journey from Saheb BariGhat.

Day Trip

If you don't want to stay overnight in Hoar, rent a troller from Tahirpur Ghat till afternoon. Talk to the majhi and decide where to go. You can have lunch at Haor Vilas Restaurant. In that case it is better to order food in advance.

Tanguar Haor via Mohanganj

Mohanganj by hour express train from Dhaka.
Mohanganj to Madhyanagar by Auto/Laguna/Bike. Tanguar hoar by reserve troller from Madhyanagar. It will take about 3 hours.
Go to Tekerghat after visiting the watch tower. Have lunch at Tekerghat.
After visiting Niladri Lake, go to Lockmachhara by bike. Visit all places and leave for Madhyanagar within 6 hrs.
Ask Majhi to fix Auto/Laguna/Bike in Madhyanagar. Otherwise there may be problems at night. Reached Netrakona by Mohanganj Express train to Dhaka.
Houseboat Tour Plan
If you have planned a houseboat tour then your only task is to reach Sunamganj or Tahirpur. After that, the houseboat is responsible for the rest of the movement. They will guide you on the complete tour.
N.B: Be sure about whether houseboat will leave from Saheb Bari Ghat in Sunamganj city or from Tahirpur.
Houseboat Features and Amenities
Cabin room
Common/Attached washroom
High-commode, low-commode
Indoor lounge
Windows, fans, lights, charging points
Open lounge (where you can sit and Adda)
Rooftop Dining
Sufficient height to walk upright throughout the boat
Life jacket
Stairs to the roof
Life Boya
Round-the-clock tea/coffee
Generator Service
Soap, shampoo, handwash, tissue
Place of prayer
Room service
Experienced guide
Huge spacious bed
Spacious roof
Tour Cost Idea
Bus fare to and from Dhaka Sunamganj is Tk 1500.
Tahirpur CNG/bike rental from Sunamganj is Tk 300-600 per person.
Troller rent 5000 to 15000 taka. The troller fare will be divided according to the number of team members.
The food cost is Tk 120-200 per person per meal. Apart from this, others cost another 150-250 taka per person.
It will cost approximately 4500-5500 tk depending on the troller if a group of ten people goes.
If you travel by houseboat, almost all expenses are included in the package, except the cost to and from Sunamganj.
Special Note: All transport and travel cost estimates given are subject to change. Be sure about the cost before you travel.
Travel Tips
Do not swim without a life jacket. (Haor, Niladri Lake, Jadukata River nowhere)
Stay inside the troller during thunderstorms or heavy rain. Don't stay on the roof.
Keep an umbrella, and towel with you. It will be very useful during the extra heat.
Fix the price beforehand before buying anything.
The cost will be lower if grouped.
Going in the middle of the week will save you money, while also avoiding the extra crowds and allowing you to get around peacefully.
Do not play any mic, or speakers at high volume.
Do not use bright lights at night.
Do not act or behave in any way that causes trouble to the natives.
Do not do anything that harms nature.
Do not throw any type of non-perishable material into the water.
More to Read