Grand Selim Resort (Unlimited swimming pool at an affordable price)
The Grand Selim Resort is a great destination for people who are looking for relaxation at an affordable price.
In this blog post, you will know all the details about the resort.
Grand Selim Resort Room Price
Room Category
Person
Room Price (Regular Rate)
Room Price
(Sat-wed)
Room Price
(Thu-Fri)
Couple Deluxe
2
5300 Tk
2600 Tk
2915 Tk
Family Supreme Deluxe
4
7545 Tk
3700 Tk
4150 Tk
Studio Deluxe
5
9525 Tk
4700 Tk
4850 Tk
Family Suite (Connecting)
6
10,250 Tk
5500 Tk
5900 Tk
Resort Location
Grand Selim Resort has located 3-4 km from Srimangal railway station. Check the map for easy navigation.
How to go to
Car

From Dhaka, it's 4:00 – 4:30 hours driving time.
From Kuril flyover Turnpike to Kanchan bridge through the new Purbachol residential area – 12 km.
From Kanchan bridge to Bhulta intersection, Rupganj – 7 km
From Bhulta intersection to Mirpur intersection, Habiganj – 135 km
From Mirpur intersection to Srimangal inter-section – 24 km
From Srimangal inter-section to Grand Selim Resort – 3 km

Train

Route: Dhaka-Sreemangal
Trains: Parabat Express, Joyntika Express, Upaban Express, Kalni Express
Fare

Shovon Chair: 240 Tk
Snigdha: 460 Tk (AC)
AC Seat: 552 Tk

Air

Approx. 45 minutes flight from Dhaka Hazrat Shahjalal International Airport to Sylhet Osmani International Airport
Approx. 2 hours drive from Sylhet Osmani International Airport to Grand Selim resort.
Resort Facilities
Swimming Pool
Wi-fi
24 Hours Room Service
Restaurants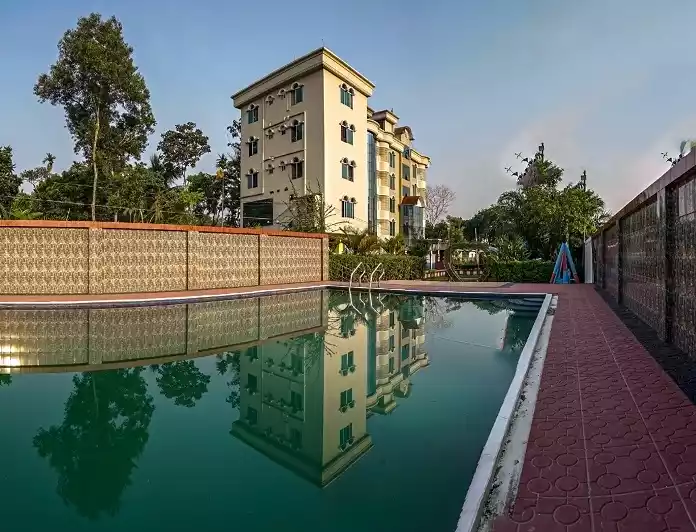 Places to Explore in Sreemangal
Lawachara National Park
Madhabpur Lake
Nilkantha Tea Cabin
Tea Research Institute
Manipura Para
Tea Garden
Also Read